Amplex e-mail servers do not have a limit on the time most of your e-mail is stored. There are some specific conditions in which e-mail messages will be automatically removed. Amplex reserves the right to clear out old messages if your mailbox exceeds 10GB in size.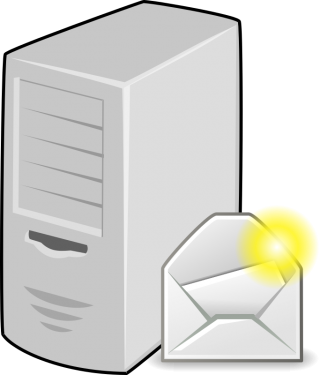 Amplex automatically deletes messages in the junk mail folder after 30 days.
Amplex automatically deletes messages in the trash mail folder after 7 days.
Amplex automatically deletes new e-mail older then 90 days from an e-mail box if no device or computer has checked the mailbox for mail. This timer is automatically reset anytime your phone or computer e-mail client checks for new messages, or if you log into the Amplex Webmail website.
Amplex automatically closes e-mail accounts which have not been logged into after 180 days of inactivity.
While Amplex has multiple redundant storage and backup systems for e-mail, residential e-mail is provided as a best effort service and we can not restore deleted e-mails. Most popular e-mail programs support downloading messages and Amplex Webmail supports downloading individual messages in an industry standard .eml format.
FAQ: 
Question: How do I download e-mail from Amplex Webmail (roundcube)?
Answer: Downloading messages from Amplex Webmail is very easy.
Begin by logging into webmail at https://webmail.amplex.net
Left Click on a message you wish to download so that the is highlighted in blue as shown below.

Left Click More on the Icon bar and then Left Click  Download (.eml)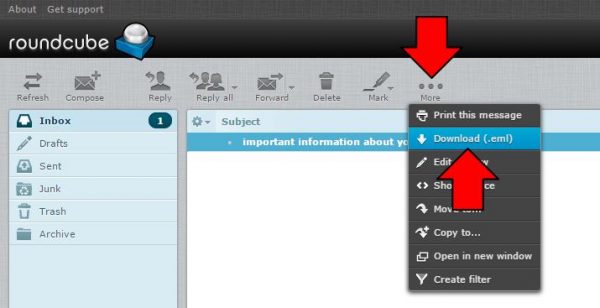 Your message will now download to your downloads folder. The file name will be the subject of the e-mail your downloaded.
You can now save those e-mail files and open them in popular e-mail programs such as Mozilla Thunderbird or Microsoft Outlook. You can also import the message back into webmail (roundcube) by clicking the gear icon in the lower right hand corner, clicking import messages then choosing the file you wish to import and clicking upload.