There are three methods to make a payment for your Amplex bill. You can use our self help my.amplex.net site to pay via credit/debit or e-check, call our support department to pay over the phone via credit/debit or e-check, or mail in a payment.
Address to mail in a payment:
Amplex Internet
22690 Pemberville Rd
Luckey, OH 43443
Phone number to call in a payment:
419-837-5015
How to make a payment via the my.amplex.net site
To make a payment begin by going to https://my.amplex.net
Type in your login name and password then click Login. If you do not have a My Account login name or password please contact customer service at 419-837-5015 to create one. This login ID is separate and may be different from your Amplex e-mail login.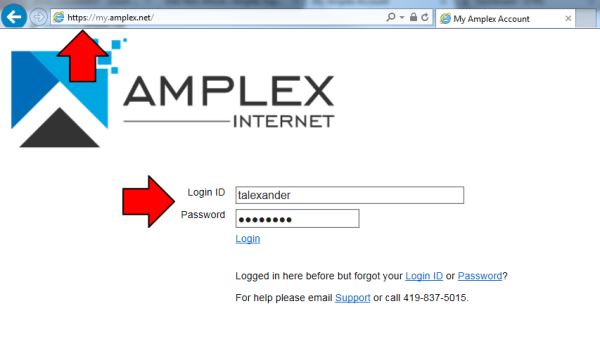 Once logged in to the site you can see your balance and current account status at the bottom of the screen. In the example below the account is open with a current balance due of $54.95 with no past due amount.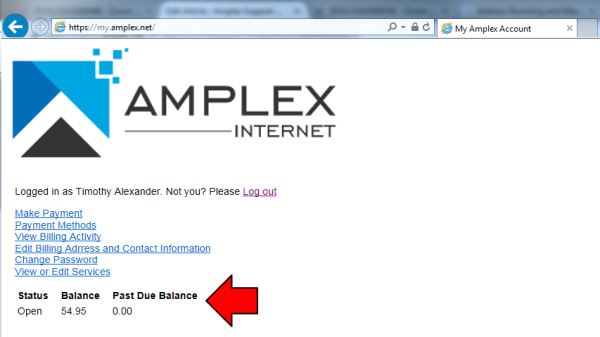 To make a payment you must first add a payment method by clicking on Payment Methods. In the payment Methods screen you can see the existing payment methods stored on your account (if any) and can click Add Credit Card to add a credit or debit card or Add Electronic Check to add a checking account. You can also select an existing payment method and click deleted selected payment method to remove old payment accounts.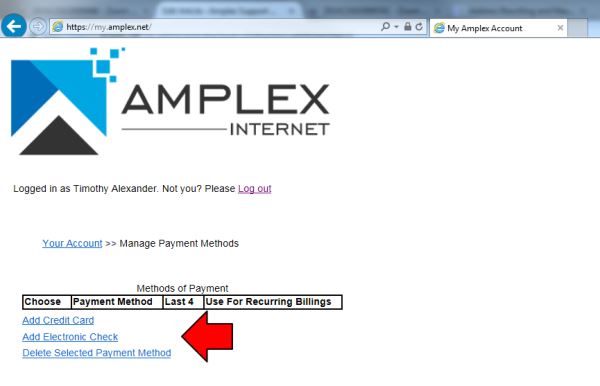 To add a Credit Card or Debit Card click on add Credit Card then type in your credit card billing information. This address is where you receive your credit card bill or bank statement at and the name as it appears on your credit or debit card. Click next once you've filled in the form.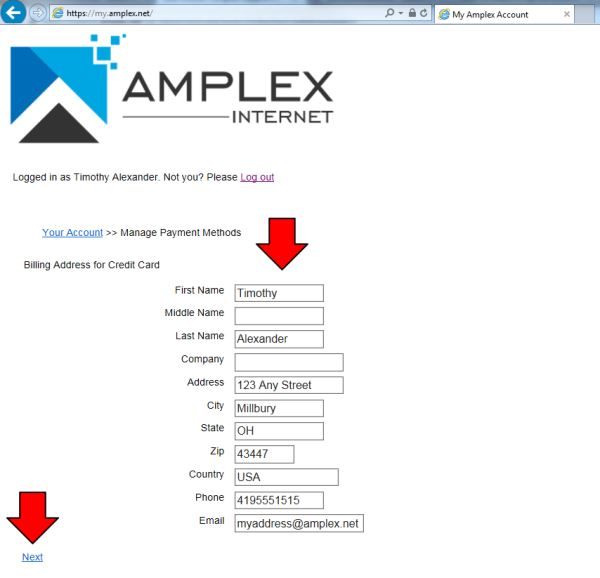 On the next screen you will be asked for your credit card number, expiration date and security code printed on the rear of the card. You will also be offered the ability to signup for automatic payments. If you check Use For Recurring Billing then your future new bills will be automatically withdrawn from your account on the day the new bill comes out. If you do not want automatic payments uncheck the box Use For Reoccurring Payments.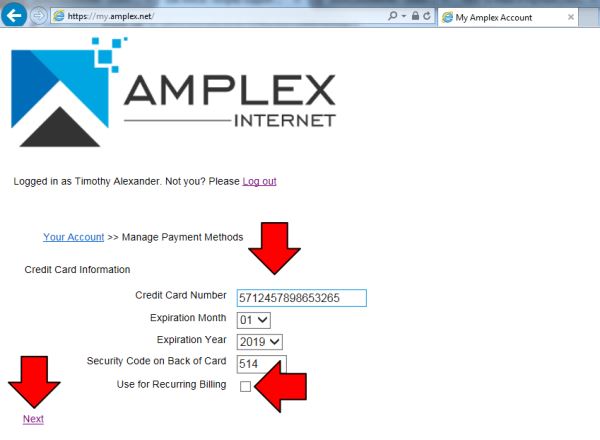 Now that your card has been added click Your Account to return to the main menu.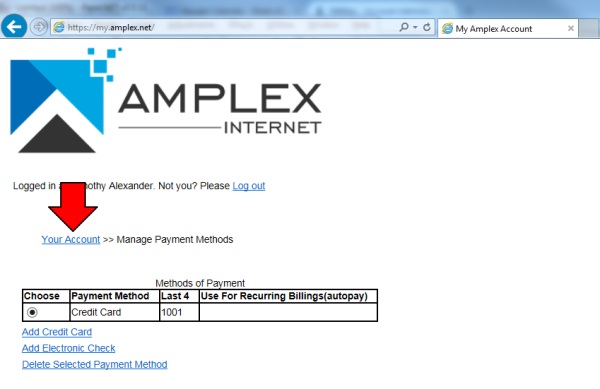 From the main screen click Make A Payment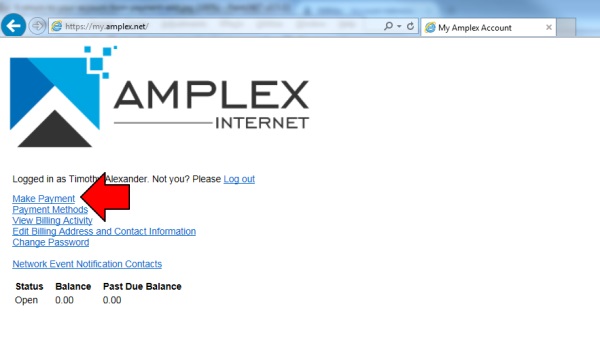 The payment screen will show your current balance due, your past due balance and the last payment information along with other account information. The most recently added card will be default selected but if you have multiple payment methods on file you can choose between them under the Methods of Payment box. Type in the total payment you wish to make and click Make Payment.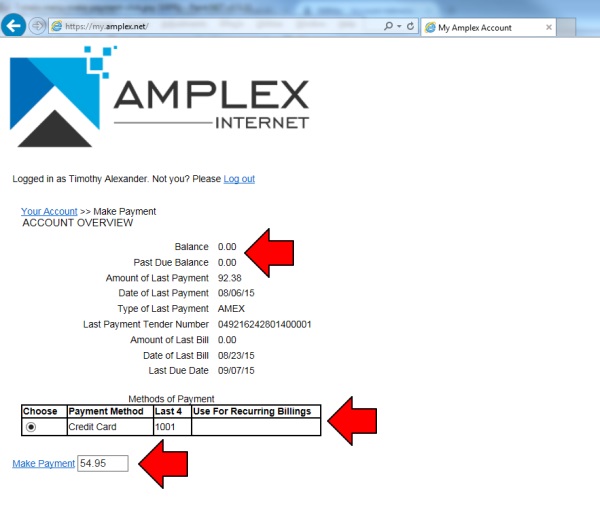 Your payment has now been made and will be posted to your account immediately.
How to Make a Payment Using New Web Portal
Please visit the Customer Portal article to review.
FAQ:
Question: I made my payment but the card came back declined, what should I do?
Answer: Amplex submits payments through your credit card but only receives back either an approval or a decline. We recommend contacting your bank or credit card company to determine the exact reason for the decline.
Question: My service is currently suspended due to a past due balance, if I pay the past due will my account be reactivated?
Answer: Yes, your account will be reactivated if you pay the past due balance on your account. You may need to reboot your computer and power cycle your router (unplug your router from the power cable, wait 15 seconds, reconnect the power cable) for your internet to reactivate. If your account does not reactive after 5 minutes and after rebooting your computer and power cycling your router please our support department at 419-837-5015.