Amplex Internet is transitioning to a new billing platform which supports a more advanced customer portal.
This new portal, accessible at https://www.amplex.net/web, provides many new features.
Table of Contents
Creating a Portal Account
In order to use the new portal system, your account needs to have been migrated to the new platform; if yours has, you will have received communication advising you of this update.
You may have received an email to set up your portal login information when your account was migrated.
Step 1
Contact an Amplex representative – they will need to find and verify your account and send you a link to create your portal login with.
The email you will receive will look something like this: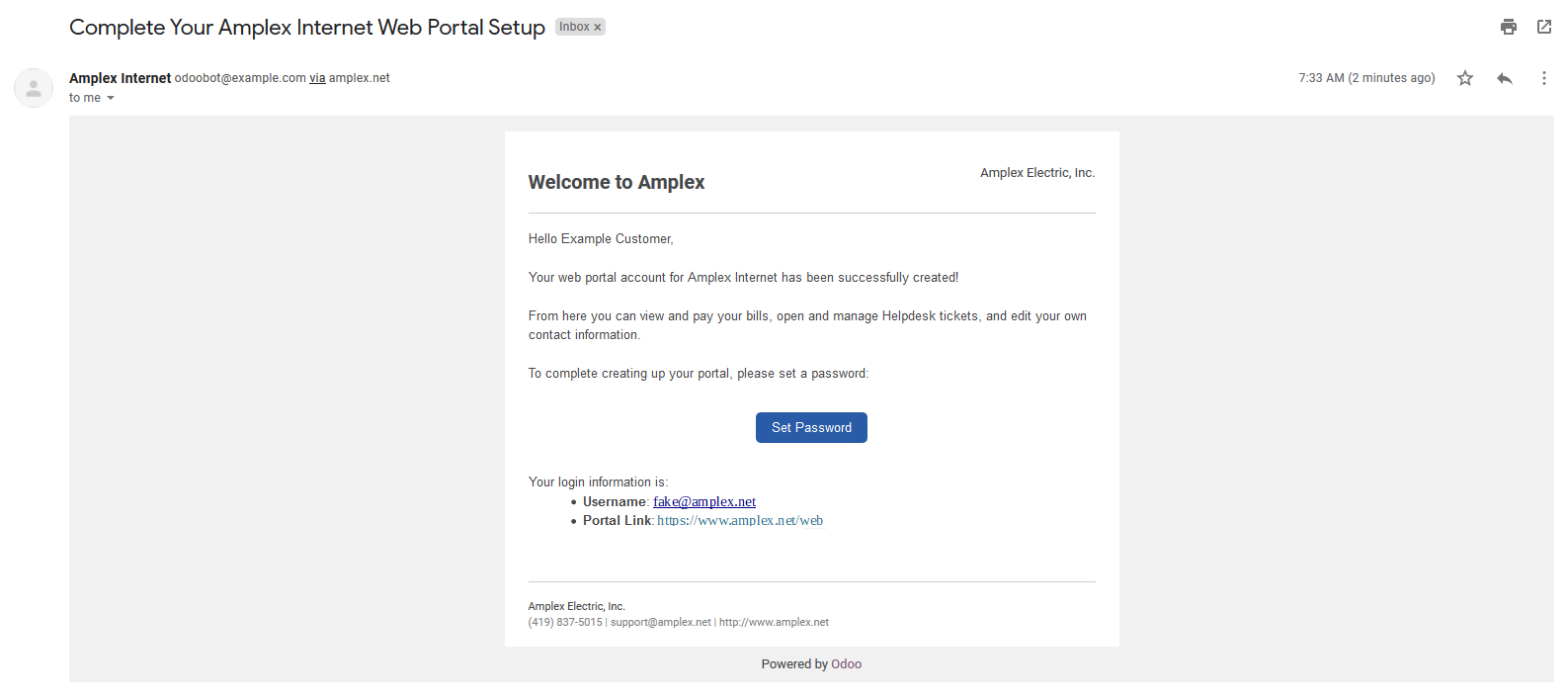 Click the "Set Password" button to load the account creation page where you will set your password and log in to your new account for the first time.
Step 2
Enter your preferred password and click "Sign Up" to complete creating your account.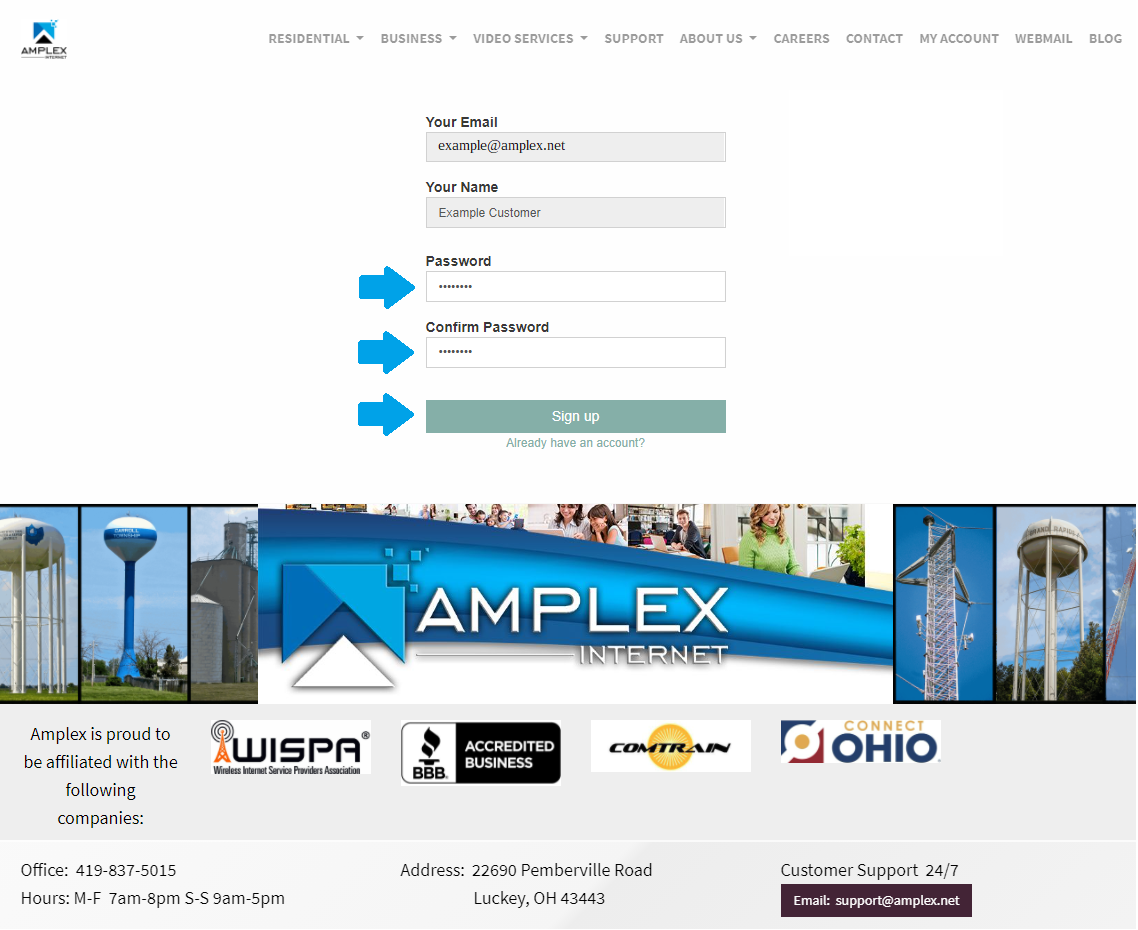 Step 3
Review your customer portal dashboard!  There can be a lot going on here; let's take a moment to break things down.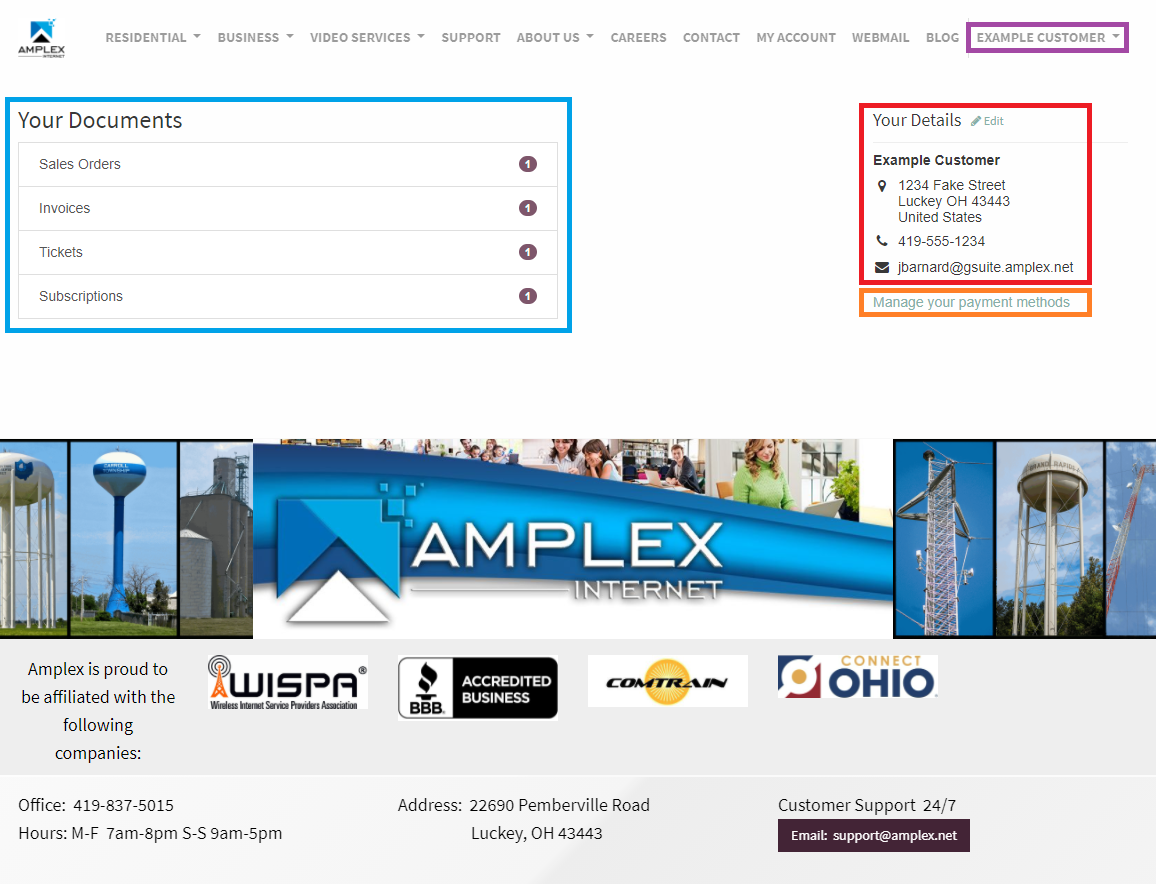 Your Documents

Any documents which are related to your account, including your initial Sale Order, Invoices, Helpdesk Tickets, and Subscriptions

Your Details

Your contact and address information; you can update this information yourself using the "Edit" button next to the title

Manage your payment methods

From here you can view, update, add, and remove ACH Checking accounts and credit cards

Account Toolbar

Return to this dashboard view, or log out
Managing Payment Methods
Click on the "Manage your payment methods" on the right-hand side of the screen:

Select either the ACH eCheck or Credit Card option and enter all the relevant fields:

Next, click the "Add new card" button (for both eChecks and credit cards) to save your payment method.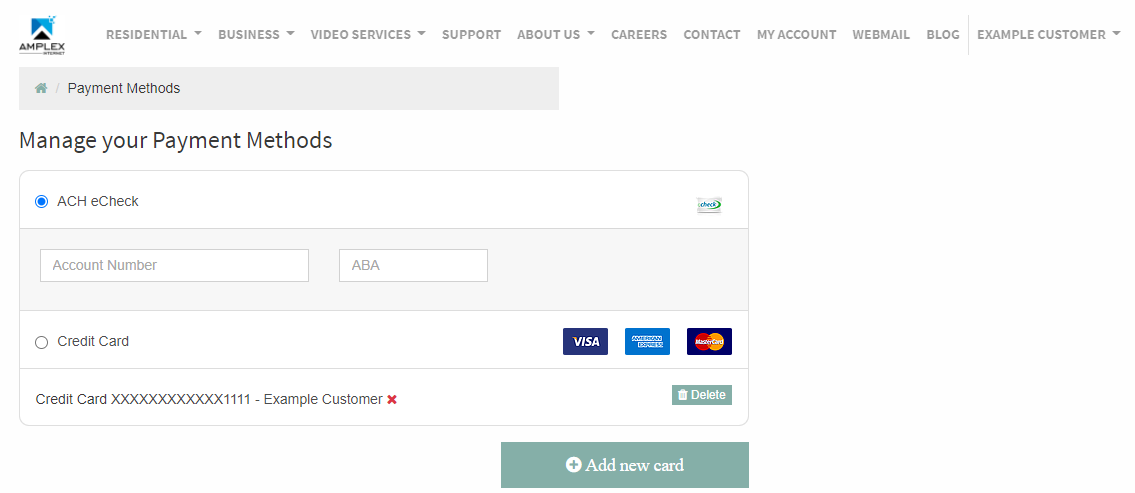 Viewing & Paying Bills
To view and make payments on your bills, click on the "Invoices" option from your dashboard.

This will open a list of your invoices, including those which are still waiting for payment.  To open an invoice, you may either click the invoice number or, if the invoice has yet to be paid, the "Pay Now" button:

Let's take a moment to review the different parts of an invoice we can see in the portal: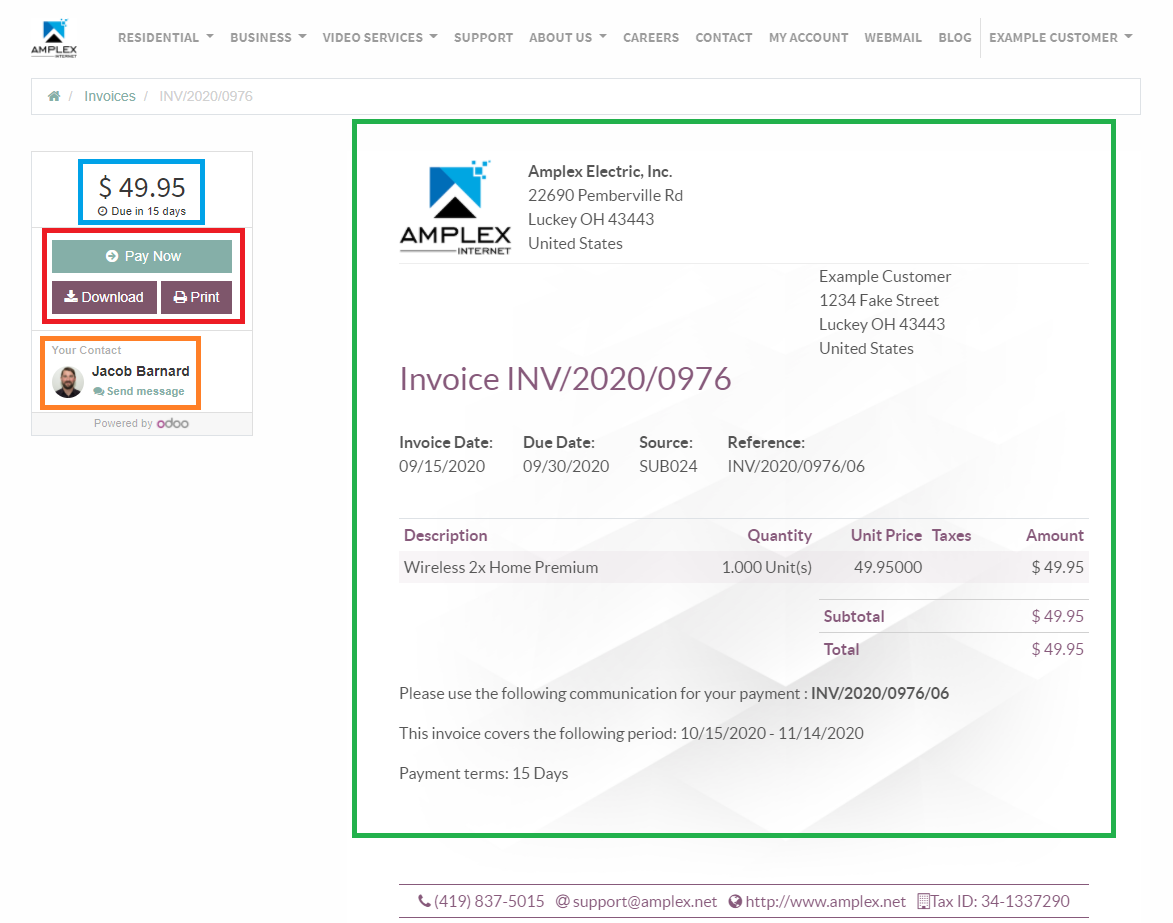 Total Due

Buttons

Here you can access the payment portal and download or print the document

Contact support

Message a Customer Service Representative with any issues regarding your bill

Document Preview
Helpdesk Tickets
To view your open Helpdesk Tickets, click the "Tickets" option in the home dashboard.

This will open a list view of all your tickets and their current status; click any ticket to open it's details.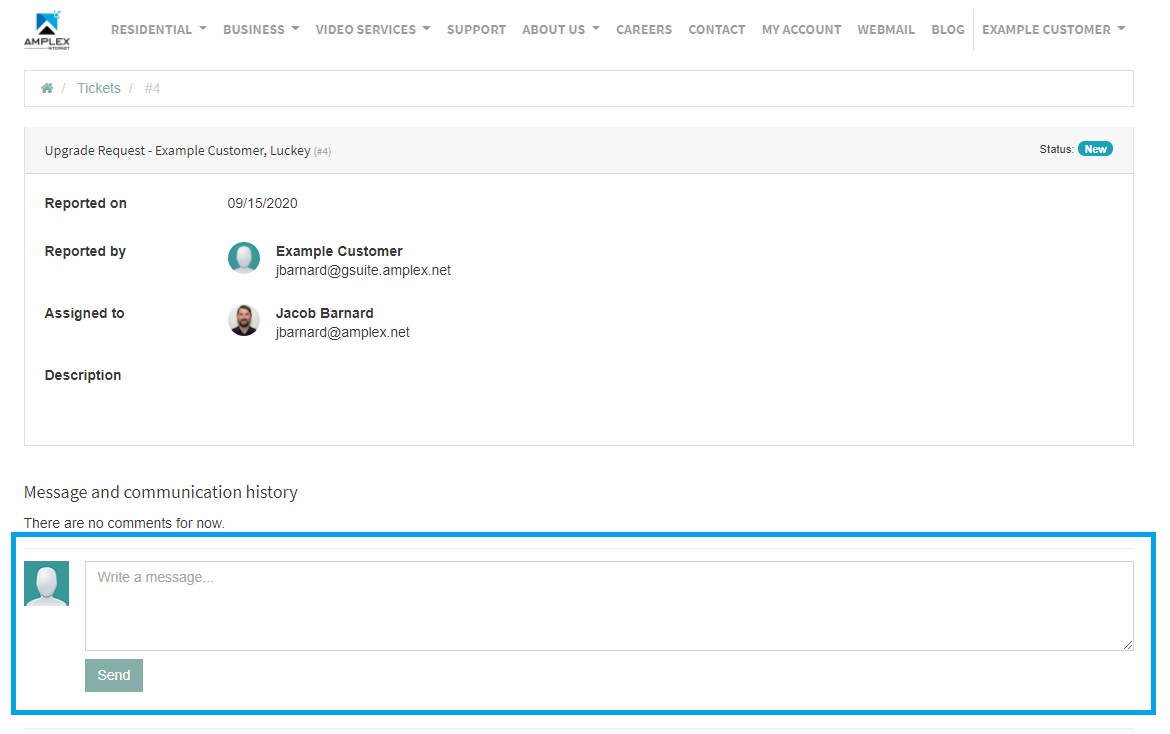 Only some details from your ticket will be visible, such as the title, ticket number, reported on date, assigned to technician, and the description.  You may also send a message to the Customer Service Representative managing your ticket using the "Send" button at the bottom of the ticket screen.