The Nintendo Switch has two methods of connecting to your home router. You can either use an ethernet cable coupled with a USB to ethernet adapter connected from the back of the Nintendo Switch docking station  to one of the open LAN ports on your router (usually labeled 1,2,3 or 4) or connect wirelessly using the Nintendo Switch built in wireless adapter (preferred method if you plan on using the Switch off the docking station).
Wireless Connection Setup (Preferred)
This method is the preferred method for connecting your Nintendo Switch for use off of the docking station, but also works when using the docking station. Please Note: You will need your SSID (Wi-Fi Name) and password.
 Open the HOME menu from the Nintendo Switch console.
Select "Settings"
Select "Internet" and then "Internet Settings." (The Nintendo Switch will automatically search for near-by Wi-Fi signals.)
Select the appropriate network name (SSID) from the list. (If your network name does not show up, you may research by pressing the "Y" button to search again, you may want to move closer to the router.)
If prompted, use the onscreen keyboard to enter the network's wireless password.
The Nintendo Switch will test the Internet connection. Once the test is complete, select "OK" to complete the process.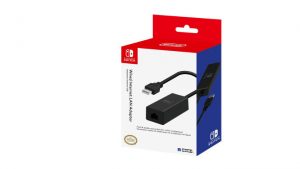 Wired Connection Setup 
Note: This method requires the Nintendo Switch to be in the docking station and the Nintendo Switch USB to Ethernet Adapter (sold separately from the Nintendo Switch).
 Begin by plugging in the Nintendo USB ethernet adapter to the rear of your Nintendo Switch docking station. Then connect an ethernet cable to the adapter and connect the other end of the ethernet cable to the LAN 1, 2, 3, or 4, port on your router.
On the Nintendo Switch console, select "System Settings" on the HOME menu.
Select "Internet" and then "Internet Settings." (The switch will automatically search for near-by Wi-Fi signals.)
Once the option is available, select "Wired Connection."
Select "Connect to the Internet via wired connection."
The Switch will then test the Internet connection. Once the test is complete, select "OK"