Understanding Data Usage

Data, the amount of information you have sent and received, is measured and shown on your monthly Amplex billing statement. This number is useful to understand how much information your household is consuming.

Below is an example of what the data usage information will look like on a monthly billing statement.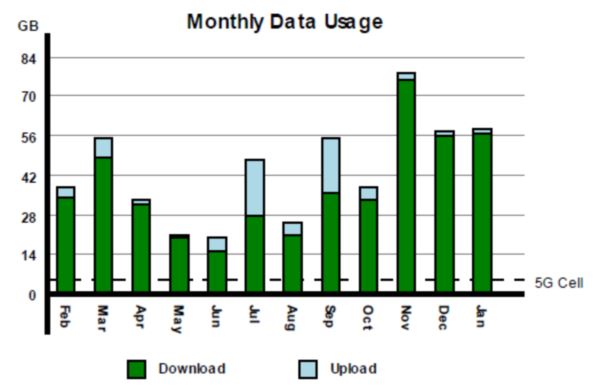 The data usage is listed in gigabytes (GB) which is 8,000,000,00 bits of data. For reference a typical cell phone data plan includes 5 GB of data and is shown by the dotted line on the graph.

The data usage is separated by data downloaded (received) and data uploaded (sent). In the example above for the month of December there was approximately 56 GB of data downloaded and 2 GB of data uploaded. In the month of September there was approximately 28 GB of data downloaded and 16 GB of data uploaded.

Why does data use matter?

When you purchase an Internet plan you have to consider both how much you can use and how fast you can use it. The speed of the plan, usually in Megabits (Mbit), is how fast the information transfers per second. The usage is how much data you're allowed to download in a month. If you're plan includes an unlimited amount of data usage you only need to worry about if you have enough speed to run all of the applications you want to run. If your plan includes a set amount of usage then you need to mindful of what you use on the Internet.

How Much Data Does Amplex Provide?

Amplex currently offers some of the most generous data limits in the wireless industry. While many cell phone providers limit usage to 5 GB and some satellite providers offer up to  25 GB. Amplex's MINIMUM data limit is 100 GB with our fastest plan offering 1,000 GB of data. Amplex is committed to providing the most data we can offer to allow you to stream video, download games and do what YOU want on your Internet connection.

| | | | | |
| --- | --- | --- | --- | --- |
|   | Home Xtreme | Home Premium + | Home Premium | Home Basic |
| Down/Up Speed | 10/2 Mbps* | 6/1 Mbps* | 4/1 Mbps* | 1 Mbps/384 Kbps* |
| Burst Speed | 15 Mbps | 10 Mbps | 10 Mbps | n/a |
| Data Limit | 1000 GB | 500 GB | 300 GB | 100 GB |
| Monthly Rate | $79.95 | $54.95 | $49.95 | $34.95 |

*Stated speeds are an average sustained rate and not guaranteed speeds.