The Amplex Antispam server uses an advanced algorithm to assign a score to each e-mail message from 0 to 10. A score of 0 indicates that the message is absolutely valid and a score of 9 indicates the message is most likely spam. Amplex, by default, has setup some rules which determine what the Antispam server will do with a message of a specific score.
Score From 0 to 3.4 – Deliver The Message To Your Inbox
Score From 3.5 to 4.9 – Tag The Message With A * In The Subject Line And Deliver It.
Score From 5.0 to 9.0 – Do Not Deliver The Message, Reject It.
These scores are setup as a system default to be very conservative and allow more spam through but prevent valid messages from being rejected accidentally as spam. You can alter these settings from the system default to enable your own customized level of spam control.
To View Spam Score Settings
Begin by logging in to the Antispam server at https://antispam.amplex.net
Your username is your full e-mail address.
Your password is your e-mail account password.
Click the Login button.
The below image shows the login screen where I've typed in the username [email protected] and my password. Click Sign In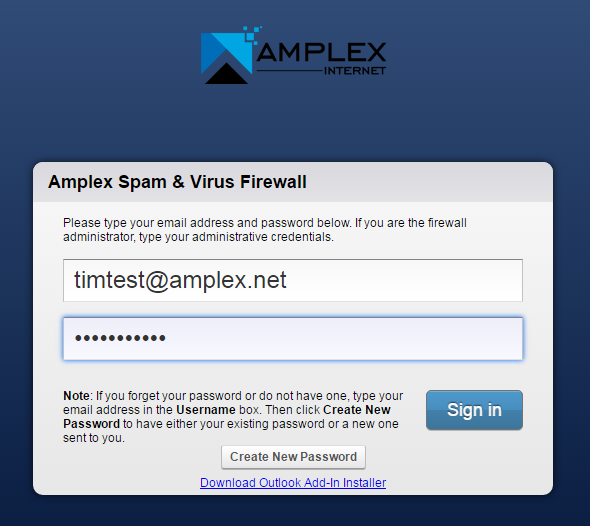 Now click on the Preferences tab on the top menu bar then click Spam Settings. You will see your current settings for the spam scoring system. In the example below the spam scoring system is enabled (the default setting) and system default settings described above are enabled (the default setting.)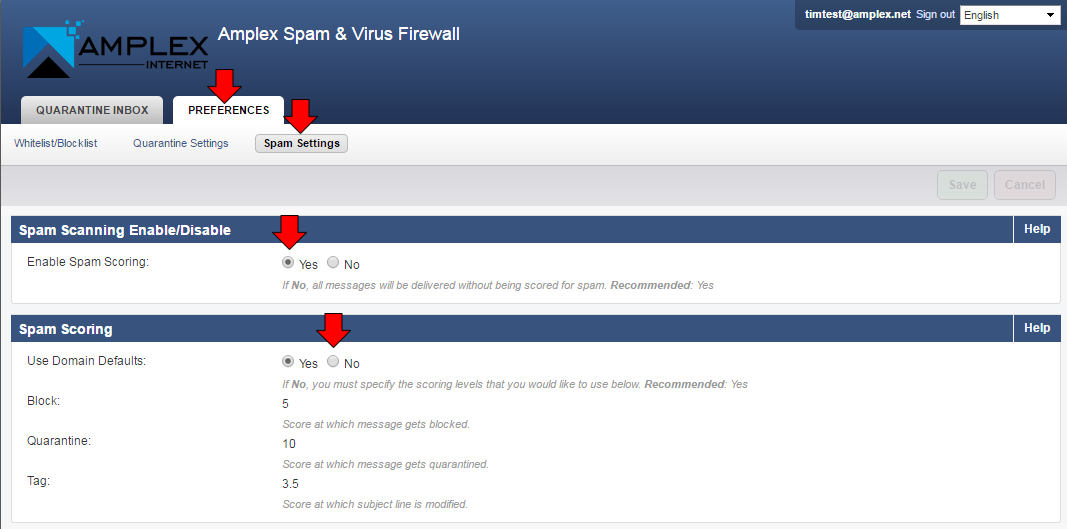 To Use Custom Spam Score Settings
To use custom spam score settings click the circle next to the word No by Use System Defaults then click Save. You will now see new options appear when the page reloads as shown below.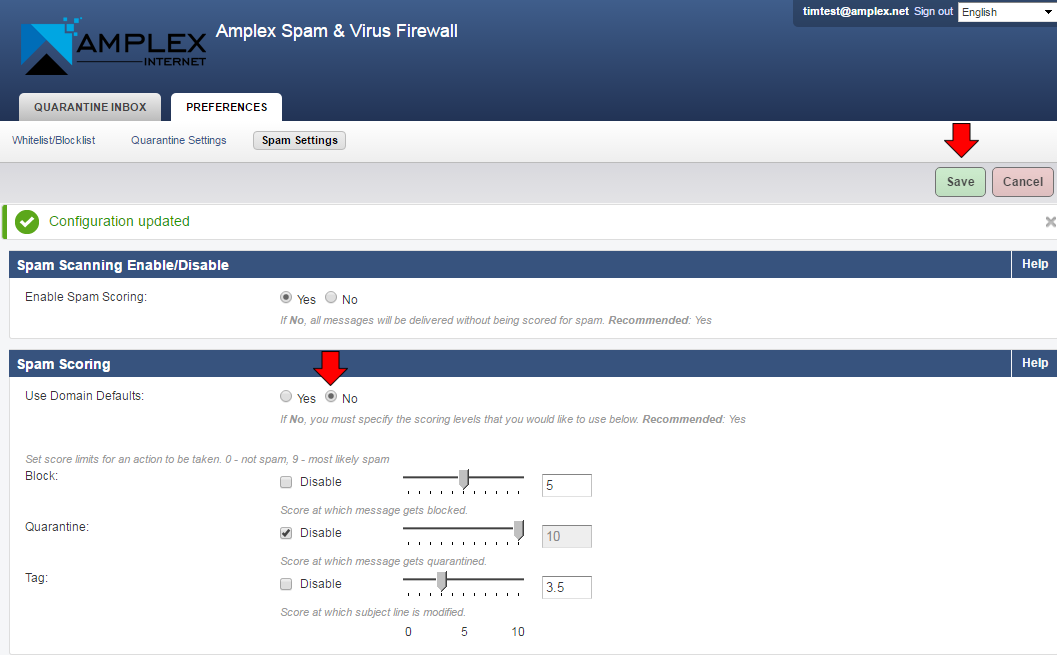 The three types of options are:
Tag – This adds a * next to the front of the subject of your e-mail but still delivers the message to your inbox.
Quarantine – This option places the message in a special Quarantine Inbox and sends you a daily e-mail with the subject and e-mail address of new messages in that box. You can then log into this box and deliver to your inbox, whitelist or delete these messages one at a time.
Block – This option rejects the e-mail as spam and it is never delivered to your inbox.
You can choose to disable any of these options by clicking the Disable box next to the option you wish to disable.
Since these settings can be quite difficult to understand I've provided some example settings below and a description of what each group of settings would accomplish. The system default is a good option for most users so using a custom setting should only be needed if you want to enable Quarantine or the default settings are too strict or not aggressive enough.
Enable Quarantine Inbox And Disable Tagging

Tag – Check Disable
Quarantine – 3
Block – 6
Click Save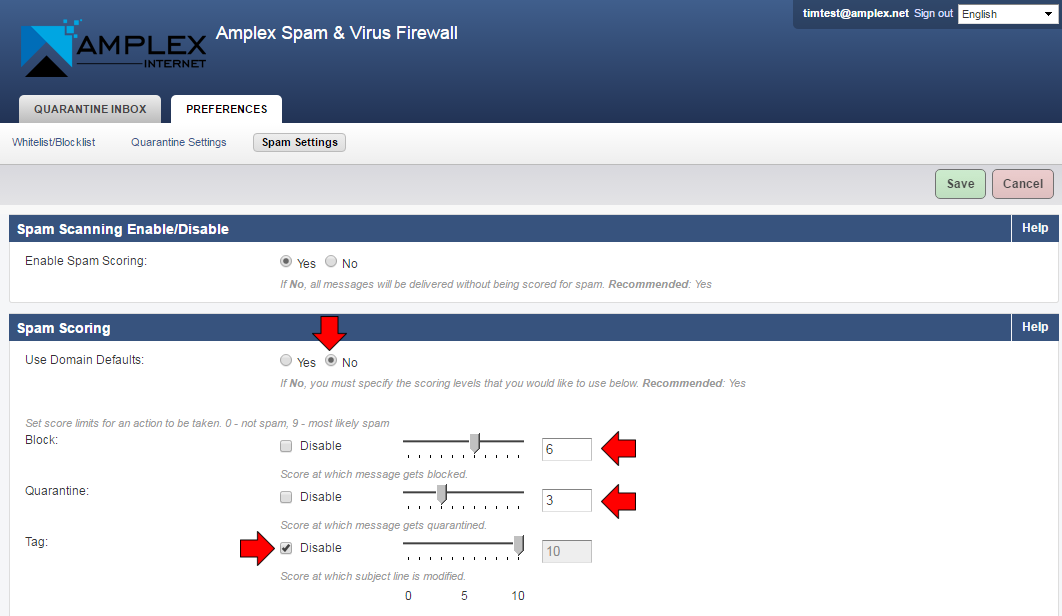 Disable Blocking, Disable Quarantine, Enable Tagging Of All Possible Spam But Still Deliver It

Tag – 3
Quarantine – Check Disable
Block – Check Disable
Click Save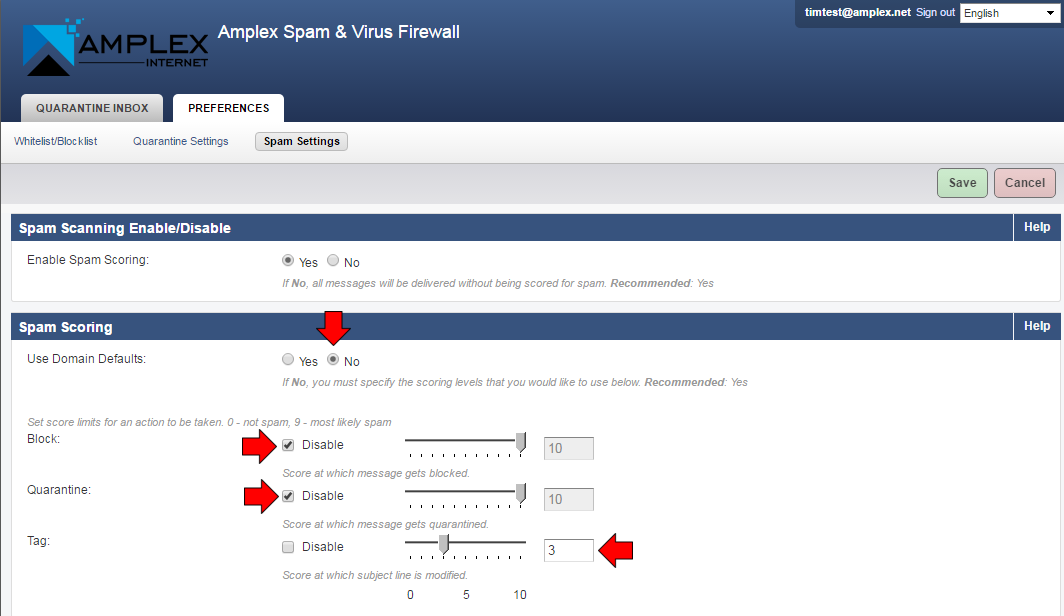 Aggressively Block Messages, Disable Quarantine, Disable Tagging

Tag – Check Disable
Quarantine – Check Disable
Block – 2
Click Save Changes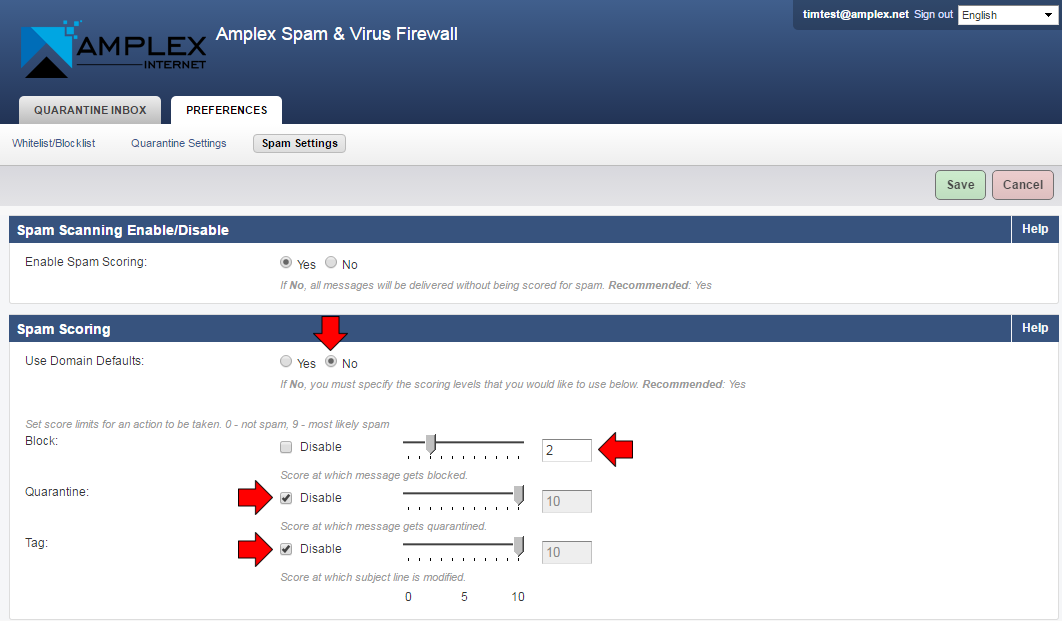 FAQ
Question: Which setting is right? This is way too confusing!
Answer: The System Defaults are a good middle of the road approach which blocks quite a bit of spam while not being too aggressive. If you feel comfortable tweaking the settings we recommend switching Use System Defaults to No but it may take some time to find the perfect settings for your needs.
Question: If I set the blocking level too low can I recover e-mails that were accidentally blocked?
Answer: No, once an e-mail is blocked we are unable to recover the message and the person who sent it would need to resend the message once you've either added that person to the Whitelist or decreased the sensitivity of the block (by increasing the number at which the block takes effect.)
Question: How do I use the quarantine Inbox?
Answer: You can read more about how to use the Quarantine inbox by clicking here.